Kainchi Dham
Taxi Tour Package
Kainchi Dham Taxi Tour Package is the perfect way to explore the spiritual and natural beauty of the Kainchi Dham region. You will also get to experience local culture and cuisine while visiting some of India's most sacred sites. So if you are looking for an unforgettable experience in India, look no further than Kainchi Dham Taxi Tour Package!
People also visit
Neem Karoli Baba Char Dham
People also visit Neem Karoli Baba Char Dham at additional cost
1. Temples Of Neem Karoli Baba, Kainchi
2. Neem Karoli Baba Ashram, Kakrighat
3. Hanuman Garhi
4. Bhumiyadhar Temple
Have Any
Talk To Our Experts
Terms and Conditions
Toll tax, parking & state tax extra has to be paid by client.
AC accommodation is not applicable in hills.
Taxes extra (5% GST).
why kainchi dham is famous ?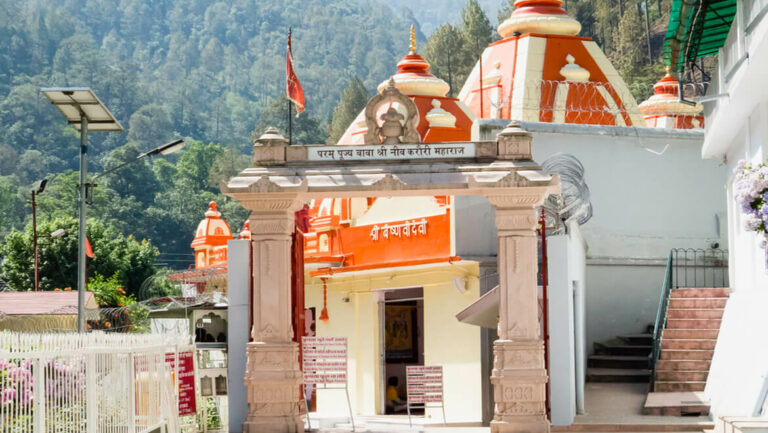 Kainchi Dham is a highly acclaimed pilgrimage site situated at the base of the beautiful Kumaon hills in Uttarakhand. It has been christened 'Kainchi' owing to the two sharp curves on its access road, which lead to its famous Ashram. This region experiences a pleasant climate all year round, especially in the summer months. The refreshing weather gives respite from the heat and makes it an ideal place for getaways during hot spells.
Kainchi Dham temple is located very close to Nainital, only 20 km away. It was established back in 1964 by Neem Karoli Baba and Shri Poornanand of the Kainchi Village, as a shrine to worship Lord Hanuman. People from all around flock to this sacred place to receive the blessings of Lord Hanuman, taking part in religious activities such as bhajans, kirtans and enjoying the peaceful ambience.
Kainchi Dham, the home of spiritual master Neem Karoli Baba, has gained tremendous popularity over time with famous personalities such as Steve Jobs and Mark Zuckerberg making visits there. The teachings of Neem Karoli Baba still remain relevant at this religious destination in India.
During the week of November 2019, Virat Kohli and Anushka Sharma made a pilgrimage to the renowned spiritual site of Kainchi Dham Neem Karoli Baba Ashram located in Nainital. 
Apart from its temples, there is a cave near the temple which has special religious significance. This was the sacred place where Neem Karoli Baba used to worship and perform various spiritual activities. Thus, tourists visit this cave to make their devotional offerings.
Best time to visit Kainchi Dham
Any month or any day will be ideal for a Kainchi Dham trip. The best time to plan a visit to Kainchi Dham is during the months of April-June or September-November. This will ensure that you get the best weather for sightseeing and other activities.